////////////////////////////////////////////////////////////////////////////////////////////////////
EXPERTISE
COLLABORATIVE CREATION OF STIMULATING AND IMPACTING SPACES
////////////////////////////////////////////////////////////////////////////////////////////////////
//// WAKUP Studio was founded by interior architect and designer Aurélie Brunet. Located in France, it meets various societal needs. Based on specific methodologies related to design and collaborative culture, Wakup offers collaborative developments and participatory workshops. Projects developed here belong to "social innovation" and "collective good". They promote "living together better".
//// COLLABORATIVE DEVELOPMENTS
The Wakup Studio operates in communal spaces, either private or public, developing schemes for municipalities, academies, associations and companies. These projects display as communication medium, educational tools, furniture or architectural developments. They are mainly related to health, social, education or cultural domain. In a hands-on approach to field reality, Wakup Studio relies on mixed teams of researchers, experts, artists or users. From contextual analysis to production, the emphasis is put on a quality collaborative and participatory process. It enables also to play down the topics covered, to accompany users towards more appropriate uses and to encourage a dynamic of exchange.
This global process is human-oriented and invites the user to share a pleasant "user experience" through a sensitive, fun and colourful universe. The final productions fulfil several objectives: meet technical and aesthetic design requirements and strive for a real social and educational impact.
//// PARTICIPATORY WORKSHOPS FROM STRATEGY TO PRODUCTION
In addition to its productions, the Wakup Studio offers various types of support.
It always starts with planning and facilitation of group sessions enabling to analyse the context and to identify the abilities and needs of the participants. This support is the opportunity to convey values stemming from the collaborative culture and to involve the public differently within associations, companies, public institutions or schools.
On the one hand, the workshops can happen as advice sessions aiming at reinforcing the strategy of the facility. With these meetings, the Wakup Studio helps the public designing and setting up appropriate proposals through simple and fast to design formats.
On the other hand, depending on the nature of participants, these workshops can lead to real productions of graphics, objects or spaces based on the skills and know-how of the public. The studio pays particular attention to practical workshops valuing the know-how of young apprentices of technical schools.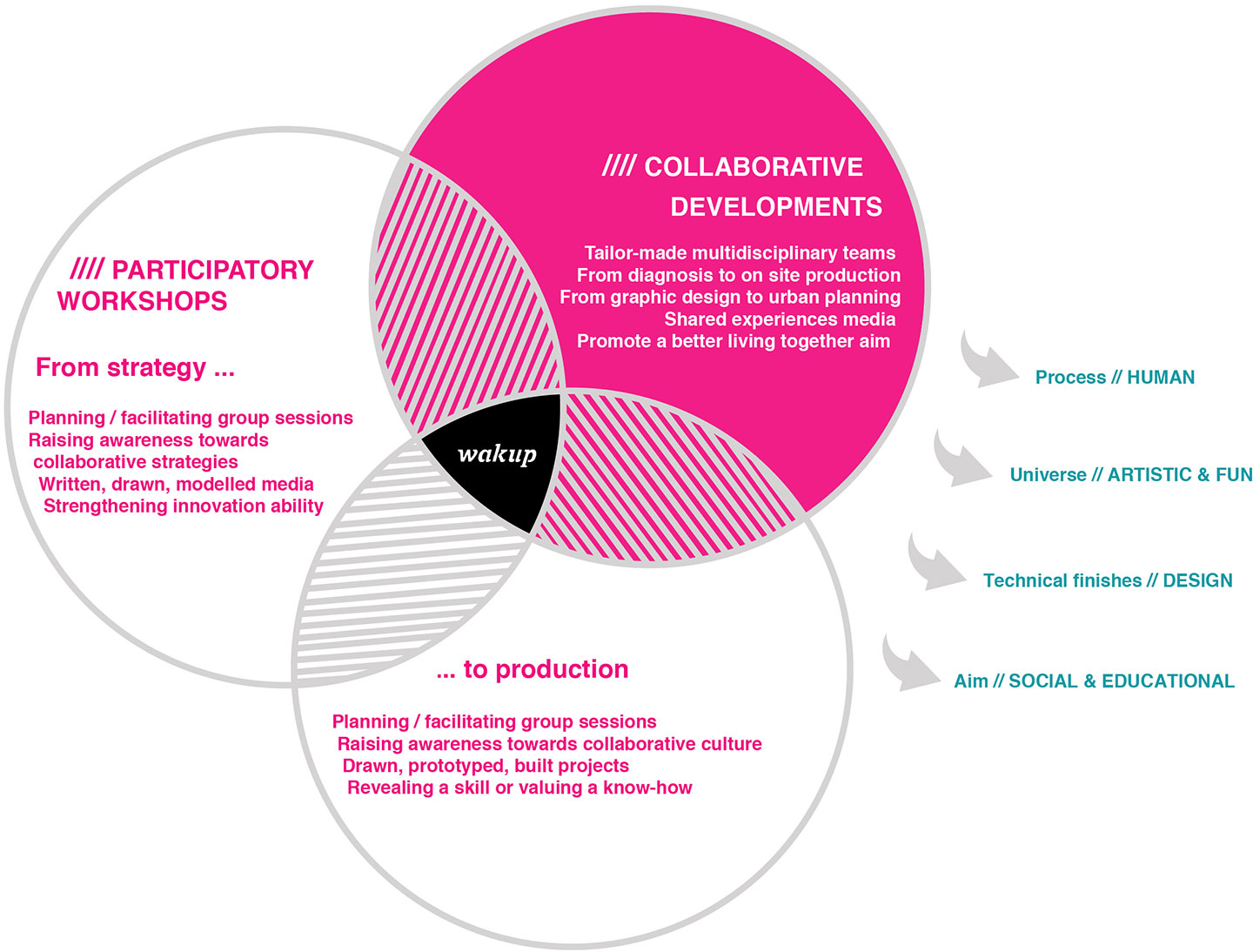 Image credits : Brian Soumeilhan, Eric Chenal, Gautier Houba, Laurent Geneix, Maxime Delvaux et Wakup Studio

//// FIELD INVESTIGATION
Local players tracking
Field-issues analysis
Meeting existing users through mapping, scenarios, urban walks…
Lead local players and the audience to express on their needs
Appropriated-team selection composed of experts and technicians
Specifications launch

//// CO-DESIGNING
Collaborative design through brainstormings, user scenarios, serious games, models…
Participatory approach
Creating user-scenarios and stimulating devices
Specifications completion

//// REALIZATION
From technical development to craft / manufactured production
Production of fitted signage, educational tools, furniture and urban plannings

//// FEEDBACK
Review with clients, users and experts
Assessment of the social or educational efficiency project